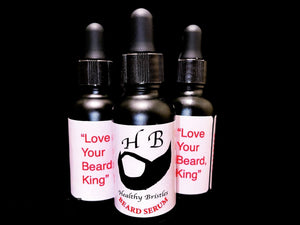 Healthy Bristle's beard serum is used as a conditioner to moisturize and soften beard hair. It helps to detangle hair and is effective with moisturizing the skin beneath the beard as well as promoting hair growth.
How to use:
Apply 2-3 drops of beard oil into the palm. Massage oil evenly into your beard and skin underneath when the hair is moist, not wet. Style your beard with either a comb, pick, or brush.
We recommend applying this product nightly before bed; however, it can be used in the morning.
Ingredients: Grapeseed Oil, Jojoba Oil, Argan Oil, Vitamin E, Tea Tree Oil, Rosemary Essential Oil, Ylang Ylang Essential Oil, Lemon Essential Oil, and Eucalyptus Essential Oil.